The popular 50 State Quarters Program was launched in 1999 and began a resurgence in interest in coin collecting. During the course of the ten year series, fifty different quarters would be issued to represent each of the states of the union. The mintages for the Proof State Quarters were only a fraction of the massive numbers of quarters minted for circulation. These collector versions of the coins were only issued within certain collectible products offered by the United States Mint.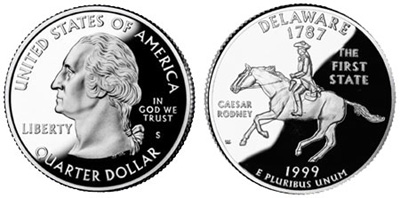 The obverse design of each State Quarter features a portrait of George Washington based on the work of John Flanagan. However, William Cousins performed modifications to the original design, including some of the wording previously used on the reverse of the Washington Quarter. The reverse design of each quarter features a unique design representing each state. Over the years, the depictions have included important people or places associated with the state, outlines of the state map, or symbols related to the state.
Proof State Quarters were issued with the United States Mint's annual Proof Sets. These sets included the cent, nickel(s), dime, half dollar, and dollar(s) issued for each year, along with the five quarters. The Proof quarters were also included in separate five coin sets that were offered separately by the Mint.
Proof State Quarter Notes:
The mintage for each of the quarters issued during a certain year are the same, since all five coins were only sold in products packaged together.
Proof versions of the State Quarter were issued in both clad and silver composition. The clad coins had a composition of .750 copper and .250 nickel, while the silver coins had a composition of .900 silver and .100 copper.
Overall, the United States Mint issued 153,296,970 clad composition and 61,087,495 silver composition Proof State Quarters.
There were a total of 100 different issues, which were each struck at the San Francisco Mint and carry the "S" mint mark.
In 2009, the Mint issued an additional six quarters as part of the 50 State Quarter Program to recognize the District of Columbia and the five U.S. territories, and Proof versions were issued in both the clad and silver composition.
The highest mintage occurred in 2000 for the Massachusetts, Maryland, South Carolina, New Hampshire, and Virginia designs at 4,020,172 each.
The lowest mintage occurred in 2008 for the Oklahoma, New Mexico, Arizona, Alaska, and Hawaii designs at 2,078,112 each.
1999 Proof State Quarters Mintages:
2000 Proof State Quarter Mintages:
2001 Proof State Quarters Mintages:
2002 Proof State Quarter Mintages:
2003 Proof State Quarter Mintages:
2004 Proof State Quarter Mintages:
2005 Proof State Quarter Mintages:
2006 Proof State Quarter Mintages:
2007 Proof State Quarter Mintages:
2008 Proof State Quarter Mintages:
2009 Proof District of Columbia & U.S. Territories Quarter Mintages: