The mintages for the Capped Bust Dime series were generally higher than the previous series for the denomination. The quantities even stretched above the one million mark, a level that might have seemed unheard of when looking at the initial years of production. Nearly all issues of the series can be reasonably obtained, making for a collectible series at various grade levels.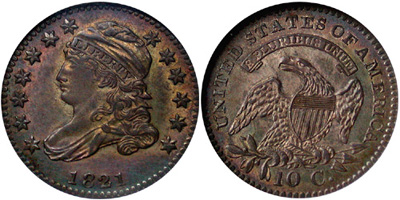 The obverse design of the coin features Liberty, wearing a cap, giving rise to the common name for the series. Stars appear to each side, numbering thirteen in total, representing the number of states within the union. The date appears below. On the reverse design is an eagle with a shield at its chest and arrows and an olive branch grasped in its talons. The motto "E PLURIBUS UNUM" appears above with the denomination expressed below.
In 1828, minor modifications were made to the design by William Kneass, the second Chief Engraver of the United States Mint. Following the installation of modern machinery, coins were struck using the close collar method which applied reeding as the coins were struck. The diameter of the coins was reduced slightly and the borders used small beads rather than the larger dentils. The new method of production resulted in more standardized diameter and higher quality strikes. Because of this, the Capped Bust Dimes minted prior to 1828 are referred to as "Variety 1" while coins minted after 1828 are referred to as "Variety 2."
Capped Bust Dime Notes:
Due to the relatively high mintage levels, the rarities of the series generally occur for specific, elusive varieties. In addition, Proof strikings are exceedingly rare and command high prices.
The lowest mintage occurred with 1809 Capped Bust Dime, which was also the first year of the series. The total production was 51,065.
In 1811, a striking error occurred, resulting in all 65,180 coins struck that year to have the 11 over 09 overdate. Many other varieties occurred throughout the series, and they are included in the total mintage for that year.
The 1822 Capped Bust Dime is the rarest circulation strike issue of the series. It may not be the lowest-minted Capped Bust Dime. However, it is rarer than its mintage suggests, with an estimated 300 examples existing across all grades and around 20 pieces in Uncirculated condition.
The exact mintage of the 1825 Capped Bust Dime is unknown, as it is extremely scarce. Thus, the mintage is included in the total mintage of the 1824 Capped Bust Dime.
The highest mintage occurs with 1835 Capped Bust Dime, with 1,410,000 pieces struck.
There are only four dates which have a mintage of greater than one million.
Average mintage per date is 585,510, a huge jump from the earlier series of dimes.
Total number produced across all years is 11,710,194.
Capped Bust Dime Mintages:
| Variety 1 – Wide Border | Mintage |
| --- | --- |
| 1809 | 51,065 |
| 1811/09 | 65,180 |
| 1814 | 421,500 |
| 1820 | 942,587 |
| 1821 | 1,186,512 |
| 1822 | 100,000 |
| 1823 | 440,000 |
| 1824-1825 | 510,000 |
| 1827 | 1,215,000 |
| Variety 2 – Modified Design | Mintage |
| --- | --- |
| 1828 | 125,000 |
| 1829 | 770,000 |
| 1830 | 510,000 |
| 1831 | 771,350 |
| 1832 | 522,500 |
| 1833 | 485,000 |
| 1834 | 635,000 |
| 1835 | 1,410,000 |
| 1836 | 1,190,000 |
| 1837 | 359,500 |
Source: CappedBustDime.com