The mintages for the Capped Bust Dime series were generally higher than the previous series for the denomination. The quantities even stretched above the one million mark, a level that might have seemed unheard of when looking at the initial years of production. Nearly all issues of the series can be reasonably obtained, making for a collectible series at various grade levels.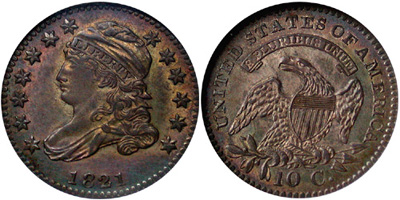 The obverse design of the coin features Liberty, wearing a cap, giving rise to the common name for the series. Stars appear to each side, numbering thirteen in total, representing the number of states within the union. The date appears below. On the reverse design is an eagle with a shield at its chest and arrows and an olive branch grasped in its talons. The motto "E Pluribus Unum" appears above with the denomination expressed below.
Due to the relatively high mintage levels, the rarities of the series generally occur for specific varieties that are more elusive. Proof strikings are also rare and command high prices.
For the Capped Bust Dime series:
The lowest mintage occurred in 1809, which was also the first year of the series. The total production was 51,065.
The highest mintage occurs in 1835, with 1,410,000 pieces struck. There are four dates which have a mintage of greater than one million.
Average mintage per date is 585,510, a huge jump from the earlier series of dimes.
Total number produced across all years is 11,710,194.
Capped Bust Dime Mintages
| Issue | Mintage |
| --- | --- |
| 1809 | 51,065 |
| 1811 | 65,180 |
| 1814 | 421,500 |
| 1820 | 942,587 |
| 1821 | 1,186,512 |
| 1822 | 100,000 |
| 1823, 1824 | 440,000 |
| 1825 | 510,000 |
| 1827 | 1,215,000 |
| 1828 | 125,000 |
| 1829 | 770,000 |
| 1830 | 510,000 |
| 1831 | 771,350 |
| 1832 | 522,500 |
| 1833 | 485,000 |
| 1834 | 635,000 |
| 1835 | 1,410,000 |
| 1836 | 1,190,000 |
| 1837 | 359,500 |
Source: Capped Bust Dime