In 1916, the quarter dollar was redesigned, continuing the efforts first began by President Theodore Roosevelt to return our coinage to objects of artistic beauty. The new series, the Standing Liberty Quarters began with an incredibly low mintage in its first year of issue. Mintage levels were generally higher for the majority of the series. Assembling a complete collection can be a challenge due to the low mintage key date and several other issues which are particularly conditionally challenging in higher grades.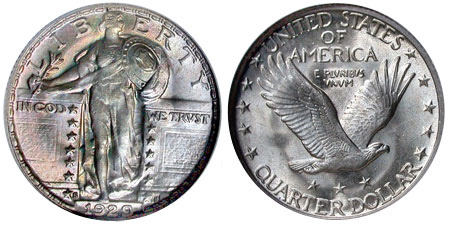 The Standing Liberty Quarter had two distinct designs during the course of the series, known as Variety 1 and Variety 2. The initial design features the full figure of Liberty standing within a gate adorned, holding an olive branch and shield and her breast exposed with stars and the motto "IN GOD WE TRUST." Lady Liberty holds an olive branch and shield, and has her breast exposed. The inscription "LIBERTY" appears above. The initial reverse design featured an eagle in flight with seven stars to the left and six to the right. Inscriptions read "UNITED STATES OF AMERICA," "E PLURIBUS UNUM," and "QUARTER DOLLAR." Part of the way through 1917, the design was changed. Most noticeably, Liberty now wore a suit of chain mail, covering her breast. On the reverse, the stars were realigned, with five to each side and three below the eagle.
Standing Liberty Quarter Notes:
There are 37 different date and mint mark combinations, including the two different varieties for 1917.
Across all issues, there were a total of 226,770,400 coins produced. The average production level for each issue was 6,128,930.
The lowest mintage issue occurred for the 1916 Standing Liberty Quarter at a mere 52,000 pieces.
The highest mintage issue, also by a wide margin, was the 1920 at 27,860,000.
The series was cut short after only 15 years of production for the issuance of the Washington Quarter, issued to coincide with his bicentennial. The coin was so popular that it continued to be issued, replacing the former series.
Standing Liberty Quarter Mintages:
| Issue | Mintage |
| --- | --- |
| 1916 | 52,000 |
| 1917 Variety 1 | 8,740,000 |
| 1917-D Variety 1 | 1,509,200 |
| 1917-S Variety 1 | 1,952,000 |
| 1917 Variety 2 | 13,880,000 |
| 1917-D Variety 2 | 6,224,400 |
| 1917-S Variety 2 | 5,552,000 |
| 1918 | 14,240,000 |
| 1918-D | 7,380,800 |
| 1918-S | 11,072,000 |
| 1919 | 11,324,000 |
| 1919-D | 1,944,000 |
| 1919-S | 1,836,000 |
| 1920 | 27,860,000 |
| 1920-D | 3,586,400 |
| 1920-S | 6,380,000 |
| 1921 | 1,916,000 |
| 1923 | 9,716,000 |
| 1923-S | 1,360,000 |
| 1924 | 10,920,000 |
| 1924-D | 3,112,000 |
| 1924-S | 2,860,000 |
| 1925 | 12,280,000 |
| 1926 | 11,316,000 |
| 1926-D | 1,716,000 |
| 1926-S | 2,700,000 |
| 1927 | 11,912,000 |
| 1927-D | 976,000 |
| 1927-S | 396,000 |
| 1928 | 6,336,000 |
| 1928-D | 1,627,600 |
| 1928-S | 2,644,000 |
| 1929 | 11,140,000 |
| 1929-D | 1,358,000 |
| 1929-S | 1,764,000 |
| 1930 | 5,632,000 |
| 1930-S | 1,556,000 |
Source: StandingLibertyQuarter.org