The American Platinum Eagle was introduced in 1997 as the only United States Mint investment grade coin struck in platinum. The offering joined the existing lines of gold and silver bullion coins. The platinum coins were offered in one ounce, one-half ounce, one-quarter ounce, and one-tenth ounce sizes. The bullion versions of the coins were distributed through a network of authorized purchasers who could order the coins in bulk quantities based on the market price of the metal plus a specified mark up.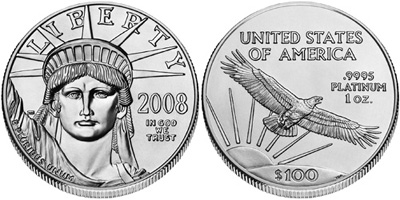 The design for the obverse of the coin was created by John Mercanti. It features a portrait of the Statue of Liberty with her face and crown in view, as well as a portion of her arm holding the torch. On the reverse is an image of a soaring bald eagle with a sun and its rays in the background. The inscriptions indicate the platinum content, fineness, and legal tender face value. The reverse was designed by Thomas D. Rogers.
The Platinum Eagles were produced based on demand from the public. This results in a relatively wide range, with a great deal of demand in initial years, and gradually diminishing demand in later years of the series. This also coincided with an extended period of higher market prices for platinum, which made the coins less affordable.
For the American Platinum Eagle bullion coins:
There were a total of 1,189,054 Platinum Eagles produced across all denominations during the years 1997 to 2008. This yielded total bullion weight of 548,251 troy ounces of platinum.
The most popular denomination based on unit sales was the one-tenth ounce coin, followed by the one ounce coin, one-quarter ounce coin, and then the one-half ounce coin.
The highest mintage for an individual bullion coin was seen for the 1998 $100 Platinum Eagle at 113,002.
The lowest mintage for an individual bullion coin was seen for the 2007 $50 Platinum Eagle at 7,001.
After 2008, the US Mint has not produced or issued bullion versions of the coin, although they continue to mint and issue numismatic versions for collectors.
American Platinum Eagle Mintages
| Date | 1 oz. | 1/2 oz. | 1/4 oz. | 1/10 oz. |
| --- | --- | --- | --- | --- |
| 1997 | 56,000 | 20,500 | 27,100 | 70,250 |
| 1998 | 133,002 | 32,419 | 38,887 | 39,525 |
| 1999 | 56,707 | 32,309 | 39,734 | 55,955 |
| 2000 | 10,003 | 18,892 | 20,054 | 34,027 |
| 2001 | 14,070 | 12,815 | 21,815 | 52,017 |
| 2002 | 11,502 | 24,005 | 27,405 | 23,005 |
| 2003 | 8,007 | 17,409 | 25,207 | 22,007 |
| 2004 | 7,009 | 13,236 | 18,010 | 15,010 |
| 2005 | 6,310 | 9,013 | 12,013 | 14,013 |
| 2006 | 6,000 | 9,602 | 12,001 | 11,001 |
| 2007 | 7,202 | 7,001 | 8,402 | 13,003 |
| 2008 | 21,800 | 14,000 | 22,800 | 17,000 |
| 2014 | 16,900 | | | |
| 2016 | 20,000 | | | |
| 2017 | 20,000 | | | |
| 2018 | 30,000 | | | |
| 2019 | 40,000 | | | |
| 2020 | 56,500 | | | |
| 2021 | 75,000 | | | |
| 2022 | TBD | | | |
Source: Platinum Eagle Guide