The half dime was the smallest silver denomination originally authorized within the American monetary system. The mintages for the Draped Bust Half Dimes remained at relatively low levels throughout the course of the series, creating scarce issues and one significant rarity. A change in the reverse design creates two distinct subtypes.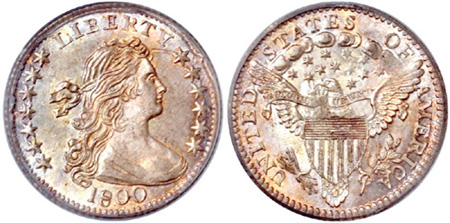 The obverse design used throughout the course of the series is credited to Robert Scot, although portraitist Gilbert Stuart is said to have provided sketches. Liberty is pictured facing towards the right with her hair bound with a ribbon at the top and falling towards her shoulders. Above is the inscription "Liberty" with stars arranged to the sides and the date below.
The initial reverse design used from 1796 to 1797 was derived from the Flowing Hair Half Dime series, with a small eagle positioned within the center of an open wreath. The inscription "United States of America" appeared surrounding. From 1800 until 1805, the reverse design featured a heraldic eagle with a shield at its chest and arrows and an olive branch in its talons. A ribbon in the eagle's beak contains the motto "In God We Trust" and "United States of America" surrounds.
For the Draped Bust Half Dimes:
There were only seven different dates produced. This included the small eagle reverse design type coins of 1796 and 1797, followed by the heraldic eagle reverse design type coins of 1800, 1801, 1802, 1803, and 1805.
A number of varieties are collected for the series, most notably including the 1796/5 overdate, 1796 "LIKERTY", and the different numbers of stars on the 1797.
The highest mintage for a regular issue was the 1797 with 44,527 produced across all varieties.
The lowest mintage issue was the 1802 Draped Bust Half Dime. This was considered the most significant issue for the entire denomination until the discovery of the 1870-S half dime.
The total production across all issues was 179,027 coins.
Draped Bust Half Dime Mintages
| Issue | Mintage |
| --- | --- |
| 1796 | 10,230 |
| 1797 | 44,527 |
| 1800 | 40,000 |
| 1801 | 27,760 |
| 1802 | 3,060 |
| 1803 | 37,850 |
| 1805 | 15,600 |
Source: Draped Bust Half Dimes