The American Silver Eagle bullion coin was first issued in 1986 as part of the American Eagle Bullion program. Each coin contains one ounce of .999 fine silver. The weight, content, and purity of the coin is guaranteed by the United States government. As the first official silver bullion coin of the United States, the coin has sold in large numbers, especially amidst the renewed interest in precious metals investment experienced in recent years.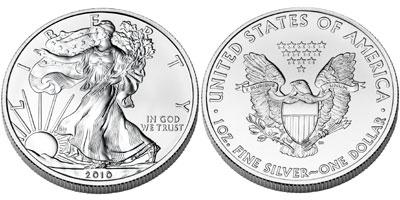 The design for the obverse of the coin is taken from Adolph A. Weinman's Walking Liberty Half Dollar, considered to be one of the most beautiful designs in history. The reverse features a heraldic eagle with shield designed by John Mercanti. In 2021, the reverse design was replaced with a flying eagle design created by Emily Damstra.
American Silver Eagle Notes:
There have been 38 different coins released between 1986 and 2023.
There have been a total of 624,789,814 coins minted and issued through 2023.
The highest mintage for an individual year occurred in 2015, with 47,000,000 coins minted.
The lowest mintage coin in the series is the 2011-S Silver Eagle with a mintage of 99,882.
The average mintage for the series is 7,685,591.
American Silver Eagle Mintages:
American Silver Eagle Mintages Continued:
The mintages presented in the table below are subject to change and reflect the most current information as of October 25, 2023.