The Walking Liberty Half Dollar was first released in 1916, following a contest held to select a new design for the denomination. The winner of the contest was Adolph A. Weinman, who created a striking and iconic image of Liberty to grace the new half dollar. The obverse features Liberty's full figure, walking towards the left. One hand holds olive branches and the other is outstretched. The reverse design features an eagle with wings raised in a confident stance.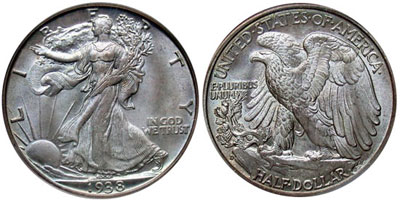 The popularity of the design makes the Walking Liberty Half Dollar series a favorite of collectors. While a short set of the coins from 1941 to 1947 can be assembled without much difficulty. However, collecting the full series from 1916 to 1947 can be a challenge, particularly for mint state coins. There are a number of low mintage coins such as the 1921, 1921-D, and 1938-D, and conditionally rare coins such as the 1921-S.
Walking Liberty Half Dollar Notes:
The series has a duration of 32 years from 1916 to 1947 with some gaps in production. There were no half dollars produced in 1922, from 1924 to 1926, and from 1930 to 1932.
Coins were minted at the Philadelphia, Denver, and San Francisco Mints.
There were a total of 65 different date and mint mark combinations. This includes the separate obverse and reverse mint mark locations for the 1917 issues.
The lowest mintage issue is the 1921-D Walking Liberty Half Dollar at 208,000.
There are nine different issues with a mintage under one million. This includes the 1916, 1916-S, 1917-D Obverse Mint Mark, 1917-S Obverse Mint Mark, 1919, 1921, 1921-D, 1921-S, and 1938-D.
The highest mintage coin of the series is the 1942 Philadelphia strike at 47,818,000.
The mintage for the 1946 Walking Liberty Half Dollar includes the mintage for the 1946 Double Die Reverse Walking Liberty Half Dollar.
The average mintage across all date and mint mark combinations is 7,466,471.
Walking Liberty Half Dollar Mintages:
| Issue | Mintage |
| --- | --- |
| 1916 | 608,000 |
| 1916-D | 1,014,400 |
| 1916-S | 508,000 |
| 1917 | 12,292,000 |
| 1917-D Obv Mint Mark | 765,400 |
| 1917-D Rev Mint Mark | 1,940,000 |
| 1917-S Obv Mint Mark | 952,000 |
| 1917-S Rev Mint Mark | 5,554,000 |
| 1918 | 6,634,000 |
| 1918-D | 3,853,040 |
| 1918-S | 10,282,000 |
| 1919 | 962,000 |
| 1919-D | 1,165,000 |
| 1919-S | 1,552,000 |
| 1920 | 6,372,000 |
| 1920-D | 1,551,000 |
| 1920-S | 4,624,000 |
| 1921 | 246,000 |
| 1921-D | 208,000 |
| 1921-S | 548,000 |
| 1923-S | 2,178,000 |
| 1927-S | 2,392,000 |
| 1928-S | 1,940,000 |
| 1929-D | 1,001,200 |
| 1929-S | 1,902,000 |
| 1933-S | 1,786,000 |
| 1934 | 6,964,000 |
| 1934-D | 2,361,400 |
| 1934-S | 3,652,000 |
| 1935 | 9,162,000 |
| 1935-D | 3,003,800 |
| 1935-S | 3,854,000 |
Walking Liberty Half Dollar Mintages Continued:
| Issue | Mintage |
| --- | --- |
| 1936 | 12,614,000 |
| 1936 Proof | 3,901 |
| 1936-D | 4,252,400 |
| 1936-S | 3,884,000 |
| 1937 | 9,522,000 |
| 1937 Proof | 5,728 |
| 1937-D | 1,676,000 |
| 1937-S | 2,090,000 |
| 1938 | 4,110,000 |
| 1938 Proof | 8,152 |
| 1938-D | 491,600 |
| 1939 | 6,812,000 |
| 1939 Proof | 8,808 |
| 1939-D | 4,267,800 |
| 1939-S | 2,552,000 |
| 1940 | 9,156,000 |
| 1940 Proof | 11,279 |
| 1940-S | 4,550,000 |
| 1941 | 24,192,000 |
| 1941 Proof | 15,412 |
| 1941-D | 11,248,400 |
| 1941-S | 8,098,000 |
| 1942 | 47,818,000 |
| 1942 Proof | 21,120 |
| 1942-D | 10,973,800 |
| 1942-S | 12,708,000 |
| 1943 | 53,190,000 |
| 1943-D | 11,346,000 |
| 1943-S | 13,450,000 |
| 1944 | 28,206,000 |
| 1944-D | 9,769,000 |
| 1944-S | 8,904,000 |
| 1945 | 31,502,000 |
| 1945-D | 9,966,800 |
| 1945-S | 10,156,000 |
| 1946 | 12,118,000 |
| 1946-D | 2,151,000 |
| 1946-S | 3,724,000 |
| 1947 | 4,094,000 |
| 1947-D | 3,900,600 |
Source: WalkingLibertyHalfDollar.com