The Proof Silver Eagle has been issued each year from 1986 to 2008 as a collectible version of the American Silver Eagle bullion coin. The coins were not issued for 2009 and the ongoing status of the proof series remains contingent on the ability of the United States Mint to meet demand for bullion coins. Each coin is created through a specialized minting process whereby the coins are struck multiple times by specialized dies. The finished coins have a cameo finish with frosted raised elements and mirrored backgrounds.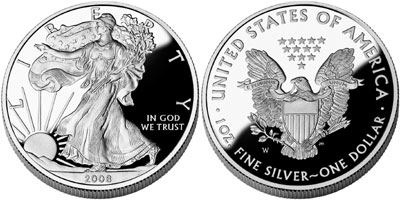 The design for the obverse and reverse of the coins is the same as found on the silver bullion coins. The obverse is Adolph A. Weinman's rendition of "Walking Liberty" and the reverse is a heraldic eagle designed by John Mercanti.
For the Proof Silver Eagles series:
There have been 25 different date and mint mark combinations issued between 1986 and 2008, including the specially issued 1995-W Proof Silver Eagle and 2006-P Reverse Proof Silver Eagle.
The 1995-W Proof Silver Eagle was issued as part of the 10th Anniversary Gold Eagle Set. The coin had the lowest mintage for a Proof Silver Eagle at 30,125.
The highest mintage occurred for the inaugural 1986 release with 1,446,778 coins minted.
The 2006-P Reverse Proof Silver Eagle was issued as part of the 20th Anniversary Silver Eagle Set. The coin has a finish which displays mirrored raised elements and frosted background fields.
The regular Proof Silver Eagle was minted at the San Francisco Mint from 1986 to 1992, at the Philadelphia Mint from 1996 to 2000, and at the West Point Mint from 2001 to 2008.
Not including the special issues, there have been a total of 15,359,470 Proof Silver Eagles minted.
The average mintage for regular Proof Silver Eagle issues is 667,803.
Proof Silver Eagle Mintages
| Issue | Mintage |
| --- | --- |
| 1986-S | 1,446,778 |
| 1987-S | 904,732 |
| 1988-S | 557,370 |
| 1989-S | 617,694 |
| 1990-S | 695,510 |
| 1991-S | 511,925 |
| 1992-S | 498,654 |
| 1993-P | 405,913 |
| 1994-P | 372,168 |
| 1995-P | 438,511 |
| 1995-W | 30,125 |
| 1996-P | 500,000 |
| 1997-P | 435,368 |
| 1998-P | 450,000 |
| 1999-P | 549,796 |
| 2000-W | 600,000 |
| 2001-W | 746,398 |
| 2002-W | 647,342 |
| 2003-W | 747,831 |
| 2004-W | 801,602 |
| 2005-W | 816,663 |
| 2006-W | 1,092,477 |
| 2006-P Reverse Proof | 248,875 |
| 2007-W | 821,759 |
| 2008-W | 700,979 |
| 2009-W | 0 |
| 2010-W | 849,861 |
| 2011-W | 947,355 |
| 2011-P Reverse Proof | 947,355 |
| 2012-W | 877,731 |
| 2012-S | 281,792 |
| 2012-S Reverse Proof | 224,935 |
| 2013-W | 934,818 |
| 2013-W Reverse Proof | 235,689 |
| 2014-W | 944,757 |
| 2015-W | 707,518 |
| 2016-W | 521,432 |
| 2017-W | 440,596 |
| 2017-S | 123,799 |
| 2018-W | 411,397 |
| 2018-S | 208,25 |
| 2019-W | 375,180 |
| 2019-S | 192,811 |
| 2019-W Enhanced Reverse Proof | 99,675 |
| 2019-S Enhanced Reverse Proof | 29,909 |
| 2020-W | 381,110 |
| 2020-S | 208,859 |
| 2020-W V75 Privy Mark | 74,709 |
| 2021-W Type 1 | 375,321 |
| 2021-W Type 2 | 384,279 |
| 2021-S Type 2 | 272,181 |
| 2021-W Reverse Proof | 123,923 |
| 2021-S Reverse Proof | 123,923 |
| 2022-W | TBD |
Source: Proof Silver Eagle