The Franklin Half Dollar was introduced in 1948, replacing the prior depiction of Liberty. The coin was designed by John Sinnock, who had also created the new design for the ten cent denomination a few years earlier. The obverse of the Franklin Half Dollar features a right-facing portrait of Benjamin Franklin. The reverse of the coin features a large, central depiction of the Liberty Bell. A diminutive eagle with wings outstretched apperas to the right of the bell.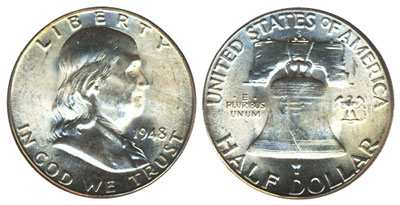 One of the most important considerations for the Franklin Half series is the strike quality. The coin features overall low relief and many broad, flat surfaces. The designation Full Bell Lines is awarded to sharply struck coins, which display full and uninterrupted horizontal lines on the lower portion of the Liberty Bell.
For the Franklin Half Dollar coin series:
The series has a duration of 16 years, with coins issued each year between 1948 and 1963.
There were a total of 35 different date and mint mark combinations. Coins were minted at the Philadelphia, Denver, and San Francisco Mints.
The lowest mintage is held by the 1955 Franklin Half Dollar with 2,498,181.
The highest mintage occurred for the 1963-D Franklin Half Dollar with 67,069,292.
The average mintage across all date and mint mark combinations is 13,308,984.
Franklin Half Dollar Mintages
| Issue | Mintage |
| --- | --- |
| 1948 | 3,006,814 |
| 1948-D | 4,028,600 |
| 1949 | 5,614,000 |
| 1949-D | 4,120,600 |
| 1949-S | 3,744,000 |
| 1950 | 7,742,123 |
| 1950-D | 8,031,600 |
| 1951 | 16,802,102 |
| 1951-D | 9,475,200 |
| 1951-S | 13,696,000 |
| 1952 | 21,192,093 |
| 1952-D | 25,395,600 |
| 1952-S | 5,526,000 |
| 1953 | 2,668,120 |
| 1953-D | 20,900,400 |
| 1953-S | 4,148,000 |
| 1954 | 13,188,202 |
| 1954-D | 25,445,580 |
| 1954-S | 4,993,400 |
| 1955 | 2,498,181 |
| 1956 | 4,032,000 |
| 1957 | 5,114,000 |
| 1957-D | 19,966,850 |
| 1958 | 4,042,000 |
| 1958-D | 23,962,412 |
| 1959 | 6,200,000 |
| 1959-D | 13,053,750 |
| 1960 | 6,024,000 |
| 1960-D | 18,215,812 |
| 1961 | 8,290,000 |
| 1961-D | 20,276,442 |
| 1962 | 9,714,000 |
| 1962-D | 35,473,281 |
| 1963 | 22,164,000 |
| 1963-D | 67,069,292 |
Source: Franklin Half Guide