The Flying Eagle Cent was the first small sized one cent coin issued by the United States Mint. Previously, the large cent had been issued, which proved to be bulky in commerce and expensive to make. The designer of the Flying Eagle Cent was James B. Longacre. The obverse of the coin features an eagle in flight, moving towards the left. The reverse of the coin depicts an agricultural wreath with a mix of American items including corn, wheat, cotton, and tobacco.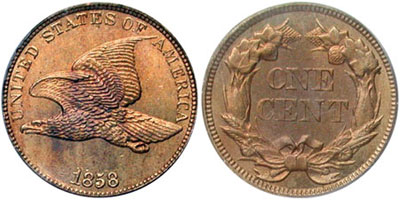 The switch from large cents to small cents was a success, however other problems became apparent, and the Flying Eagle design was only used for two years. The small cents proved difficult to strike due to the hardness of the metal and the high relief of the design. This led to the development of the Indian Head Cent design, which began its lengthy run in 1859. The composition of these small cents was 88% copper and 12% nickel with a weight of 4.67 grams. However, these specifications for the small cent would be adjusted in 1864.
Flying Eagle Cent Notes:
Although it is often collected as part of the series, the 1856 Flying Eagle Cent was not issued for circulation. It was struck as a pattern to show Congress how the new cent would look, and later Proof pieces were minted for collectors. Approximately 2,000–3,000 were produced.
Only two issues of the Flying Eagle Cent were minted for circulation. The 1857 coin had a mintage of 17,450,00 and the 1858 coin had a mintage of 24,600,000.
Flying Eagle Cent Mintages: