The Indian Head Quarter Eagle series began in 1908 and represented a radical departure from the previous design. Rather than having raised design elements and a raised rim, the coins featured an incuse design that was sunken below the surface of the coin. Although this generated some controversy at the time of issue, the series has come to be appreciated by collectors for its beauty and artistry.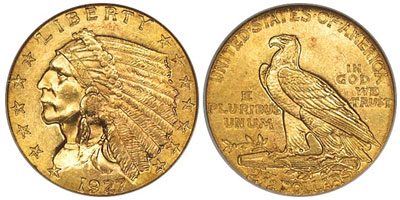 The designer of the Indian Quarter Eagle was Bela Lyon Pratt, a sculptor from Boston. His design replaced the long running Liberty Head design for the $2.50 gold denomination.
Indian Head Quarter Eagle Notes:
There were only fifteen different circulation issues of the series, minted in thirteen different years.
Coins were minted each year from 1908 to 1915, and each year from 1925 to 1929, with production taking place at the Philadelphia and/or Denver Mint.
The total number of coins produced for circulation was 7,250,261
The highest mintage coin was the 1911 Indian Head Quarter Eagle with a total mintage of 722,000.
The lowest mintage coin and considered to be the key date coin of the series is the 1911-D Indian Head Quarter Eagle with just 55,680 pieces minted.
The average circulating mintage for the series was 483,351. This average is computed based on the mintage for each circulation issue of the series.
Indian Head Quarter Eagle Mintages:
| Issue | Mintage |
| --- | --- |
| 1908 | 564,821 |
| 1908 Proof | 236 |
| 1909 | 441,760 |
| 1909 Proof | 139 |
| 1910 | 492,000 |
| 1910 Proof | 682 |
| 1911 | 704,000 |
| 1911 Proof | 191 |
| 1911-D | 55,680 |
| 1912 | 616,000 |
| 1912 Proof | 197 |
| 1913 | 722,000 |
| 1913 Proof | 165 |
| 1914 | 240,000 |
| 1914 Proof | 117 |
| 1914-D | 448,000 |
| 1915 | 606,000 |
| 1915 Proof | 100 |
| 1925-D | 578,000 |
| 1926 | 446,000 |
| 1927 | 388,000 |
| 1928 | 416,000 |
| 1929 | 532,000 |
Source: IndianQuarterEagle.com