As one of the most popular series for collectors, the mintage figures for the Buffalo Nickel deserve some attention. Unlike the previous two series for the denomination—the Shield Nickel and Liberty Nickel—the United States Mint did not strike any issues with prohibitively low mintages. The factor in making many issues of the series scarce was the impact of circulation, which wore away the identifying date on many coins.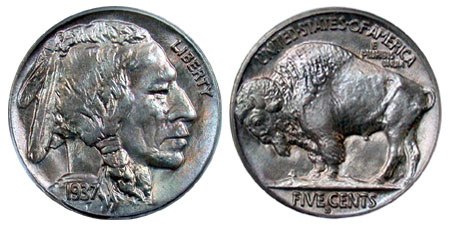 The design of the Buffalo Nickel features a Native American on the obverse. The placement of the date on the raised area of his shoulder caused it to wear quickly within circulation. The reverse features the American Bison, or buffalo, after which the series takes its common name. Initially, the denomination was on a raised area of the mound, but this was quickly corrected. Despite the awareness of the impacts of circulation on raised inscriptions, James Earle Fraser, the coin's designer, did not attempt to preserve the date.
Buffalo Nickel Notes:
There are 64 different issues across all dates, mint marks and major varieties. This number does not include the scarce varieties such as the 1916 Double Die or the 1937 Three Legged Buffalo Nickel.
Total mintage across the all dates and mints is 1,212,995,919. Production took place at the Philadelphia, Denver, and San Francisco Mints for nearly all years of issue.
Average mintage for a Buffalo Nickel is 18,953,061.
The highest mintage is for the 1936 Buffalo Nickel at 119,001,420.
On one occasion the mintage level dipped below the one million mark, to make the lowest mintage issue of the series, the 1926-S Buffalo Nickel at 970,000 pieces.
Buffalo Nickel Mintages:
Buffalo Nickel Mintages Continued:
| Issue | Mintage |
| --- | --- |
| 1923 | 35,715,000 |
| 1923-S | 6,142,000 |
| 1924 | 21,620,000 |
| 1924-D | 5,258,000 |
| 1924-S | 1,437,000 |
| 1925 | 35,565,100 |
| 1925-D | 4,450,000 |
| 1925-S | 6,256,000 |
| 1926 | 44,693,000 |
| 1926-D | 5,638,000 |
| 1926-S | 970,000 |
| 1927 | 37,981,000 |
| 1927-D | 5,730,000 |
| 1927-S | 3,430,000 |
| 1928 | 23,411,000 |
| 1928-D | 6,436,000 |
| 1928-S | 6,936,000 |
| 1929 | 36,446,000 |
| 1929-D | 8,370,000 |
| 1929-S | 7,754,000 |
| 1930 | 22,849,000 |
| 1930-S | 5,435,000 |
| 1931-S | 1,200,000 |
| 1934 | 20,213,003 |
| 1934-D | 7,480,000 |
| 1935 | 58,264,000 |
| 1935-D | 12,092,000 |
| 1935-S | 10,300,000 |
| 1936 | 119,001,420 |
| 1936 Proof | 4,420 |
| 1936-D | 24,814,000 |
| 1936-S | 14,930,000 |
| 1937 | 79,485,769 |
| 1937 Proof | 5,769 |
| 1937-D | 17,826,000 |
| 1937-S | 5,635,000 |
| 1938-D | 7,020,000 |
Source: BuffaloNickel.org