In all but a few cases, the mintages for the Liberty Head Nickel occurred in relatively high numbers. Most issues of the series with the exception of three remain relatively available for collectors. This is a contrast to the previous Shield Nickels, which saw mintage levels much more varied, including several years where coins were struck only in proof format.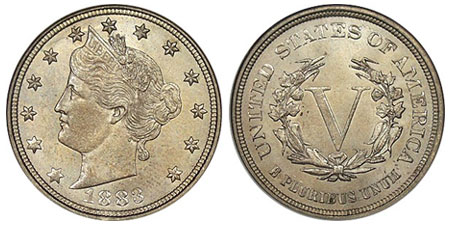 Charles E. Barber designed the Liberty Nickel. His design featured the head of Liberty on the obverse. She wears a crown and has wheat and cotton woven into her hair with thirteen stars around. The reverse includes a large Roman numeral "V," which was originally the only indication of the value of the coin. Part of the way through the first year of issue, the word "CENTS" was added. Remaining inscriptions are "UNITED STATES OF AMERICA" and "E PLURIBUS UNUM."
Liberty Nickel Notes:
There are 33 different regular issues of the series. This includes the "without cents" and "with cents" varieties of the first year.
Production took place at three different mints, although the Denver and San Francisco Mint only struck coins in the final year.
The average mintage for a regular issue is 18,242,754.
The lowest mintage occurs for the 1912-S Liberty Nickel at 238,000, while the highest mintage occurs for the 1911 Liberty Nickel at 39,557,639.
The 1913 Liberty Nickel, which was illegally minted, is believed to have an original mintage of 5.
Liberty Nickel Mintages:
| Issue | Mintage |
| --- | --- |
| 1883 Without CENTS | 5,474,300 |
| 1883 Proof Without CENTS | 5,219 |
| 1883 With CENTS | 16,026,200 |
| 1883 Proof With CENTS | 6,783 |
| 1884 | 11,270,000 |
| 1884 Proof | 3,942 |
| 1885 | 1,473,300 |
| 1885 Proof | 3,790 |
| 1886 | 3,326,000 |
| 1886 Proof | 4,290 |
| 1887 | 15,260,692 |
| 1887 Proof | 2,960 |
| 1888 | 10,715,901 |
| 1888 Proof | 4,582 |
| 1889 | 15,878,025 |
| 1889 Proof | 3,336 |
| 1890 | 16,256,532 |
| 1890 Proof | 2,740 |
| 1891 | 16,832,000 |
| 1891 Proof | 2,350 |
| 1892 | 11,696,897 |
| 1892 Proof | 2,745 |
| 1893 | 13,368,000 |
| 1893 Proof | 2,195 |
| 1894 | 5,410,500 |
| 1894 Proof | 2,632 |
| 1895 | 9,977,822 |
| 1895 Proof | 2,062 |
| 1896 | 8,841,048 |
| 1896 Proof | 1,862 |
| 1897 | 20,426,797 |
| 1897 Proof | 1,938 |
| 1898 | 12,530,292 |
| 1898 Proof | 1,795 |
| 1899 | 26,027,000 |
| 1899 Proof | 2,031 |
Liberty Nickel Mintages Continued:
| Issue | Mintage |
| --- | --- |
| 1900 Proof | 2,262 |
| 1901 | 26,478,228 |
| 1901 Proof | 1,985 |
| 1902 | 31,487,581 |
| 1902 Proof | 2,018 |
| 1903 | 28,004,930 |
| 1903 Proof | 1,790 |
| 1904 | 21,403,167 |
| 1904 Proof | 1,817 |
| 1905 | 29,825,124 |
| 1905 Proof | 2,152 |
| 1906 | 38,612,000 |
| 1906 Proof | 1,725 |
| 1907 | 39,213,325 |
| 1907 Proof | 1,475 |
| 1908 | 22,684,557 |
| 1908 Proof | 1,620 |
| 1909 | 11,585,763 |
| 1909 Proof | 4,763 |
| 1910 | 30,166,948 |
| 1910 Proof | 2,405 |
| 1911 | 39,557,639 |
| 1911 Proof | 1,733 |
| 1912 | 26,234,569 |
| 1912 Proof | 2,145 |
| 1912-D | 8,474,000 |
| 1912-S | 238,000 |
| 1913 | 5 Known |
Source: LibertyNickel.net