The mintages of the Capped Bust Half Dime are well above the levels experienced for earlier issues of the denomination. This makes completion of a full set an achievable task for most collectors. The coin series carried a design based on the work of John Reich, but modified by John Kneass. The same basic design was used for the silver coinage of the era.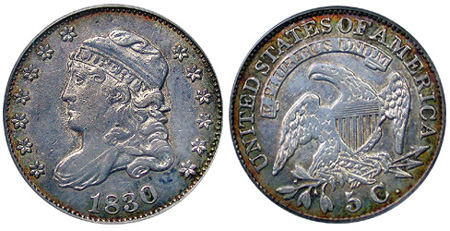 After a gap of 23 years, the United States Mint once again began producing half dimes. The new series would be struck in slightly smaller diameter, but with a slightly thicker width. The composition of .8924 silver and balance copper remained the same as previously in use. Ultimately, the Capped Bust Half Dimes were struck for only eight years at the second Philadelphia Mint. Several years contain popular varieties listed in the Red Book.
Mintage considerations for the series:
Across all years, there were 13,058,700 Capped Bust Half Dimes produced.
In the first year for the series, there were 1,230,000 coins produced. This exceeded the total number of half dimes struck in the United States for all previous years.
The highest mintage of 2,760,000 coins occurred in 1835.
The lowest mintage of 871,000 coins occurred in 1837, which was also the final year of the series. In the same year, production of the Liberty Seated Half Dime began.
Within the series, the Mint produced an extremely limited number of proof coins. These are highly prized by collectors.
Capped Bust Half Dime Mintages
| Issue | Mintage |
| --- | --- |
| 1829 | 1,230,000 |
| 1830 | 1,240,000 |
| 1831 | 1,242,700 |
| 1832 | 965,000 |
| 1833 | 1,370,000 |
| 1834 | 1,480,000 |
| 1835 | 2,760,000 |
| 1836 | 1,900,000 |
| 1837 | 871,000 |
Source: Capped Bust Half Dime