The Barber Dimes remain a series that is somewhat overlooked by collectors. During the 25 year span when the series was issued, there were numerous coins with lower mintages. Since these were not saved in any quantity, high mint state graded examples are extremely elusive. Although these coins carry premiums, they are low in comparison to coins of comparable rarity from other more popular series.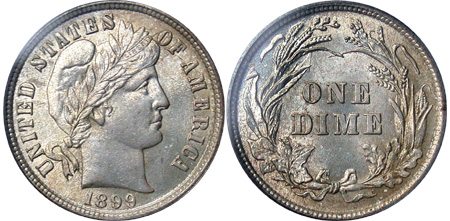 The designer of the Barber Dime was Charles E. Barber, who was serving as the chief sculptor at the United States Mint at the time the series was contemplated and eventually released. The obverse features the head of Liberty facing right, wearing a cap adorned with a band inscribed "Liberty" and a wreath with thirteen leaves. Many have drawn comparisons to the Morgan Dollars designed by Charles Morgan several years earlier. The reverse of the coin features an agricultural wreath with a central inscription of the denomination "One Dime". This concept was carried over from the previous series.
For the Barber Dime series:
There were a total of 74 date and mint mark combinations. The dates range from 1892 to 1916. The mint facilities include Philadelphia, Denver, San Francisco, and New Orleans.
The total number of circulation strike coins issued for the entire series is 504,515,051.
The average mintage for an issue of the series was 6,817,771.
The 1895-O Barber Dime has the lowest mintage at 440,000, and the 1907 has the highest mintage at 22,220,000.
During the course of the series, there were 13 separate issues with a mintage for circulation below the one million mark.
Barber Dime Mintages
| Issue | Mintage |
| --- | --- |
| 1892 | 12,120,000 |
| 1892-O | 3,841,700 |
| 1892-S | 990,710 |
| 1893 | 3,340,000 |
| 1893-O | 1,760,000 |
| 1893-S | 2,491,401 |
| 1894 | 1,330,000 |
| 1894-O | 720,000 |
| 1895 | 690,000 |
| 1895-O | 440,000 |
| 1895-S | 1,120,000 |
| 1896 | 2,000,000 |
| 1896-O | 610,000 |
| 1896-S | 575,056 |
| 1897 | 10,868,533 |
| 1897-O | 666,000 |
| 1897-S | 1,342,844 |
| 1898 | 16,320,000 |
| 1898-O | 2,130,000 |
| 1898-S | 1,702,507 |
| 1899 | 19,850,000 |
| 1899-O | 2,650,000 |
| 1899-S | 1,867,493 |
| 1900 | 17,600,000 |
| 1900-O | 2,010,000 |
| 1900-S | 5,168,270 |
| 1901 | 18,859,665 |
| 1901-O | 5,620,000 |
| 1901-S | 593,022 |
| 1902 | 21,380,000 |
| 1902-O | 4,500,000 |
| 1902-S | 2,070,000 |
| 1903 | 19,500,000 |
| 1903-O | 8,180,000 |
| 1903-S | 613,300 |
| 1904 | 14,600,357 |
| 1904-S | 800,000 |
| 1905 | 14,551,623 |
| 1905-O | 3,400,000 |
| 1905-S | 6,855,199 |
| 1906 | 19,957,731 |
| 1906-D | 4,060,000 |
| 1906-O | 2,610,000 |
| 1906-S | 3,136,640 |
| 1907 | 22,220,000 |
| 1907-D | 4,080,000 |
| 1907-O | 5,058,000 |
| 1907-S | 3,178,470 |
| 1908 | 10,600,000 |
| 1908-D | 7,490,000 |
| 1908-O | 1,789,000 |
| 1908-S | 3,220,000 |
| 1909 | 10,240,000 |
| 1909-D | 954,000 |
| 1909-O | 2,287,000 |
| 1909-S | 1,000,000 |
| 1910 | 11,520,000 |
| 1910-D | 3,490,000 |
| 1910-S | 1,240,000 |
| 1911 | 18,870,000 |
| 1911-D | 11,209,000 |
| 1911-S | 3,520,000 |
| 1912 | 19,349,300 |
| 1912-D | 11,760,000 |
| 1912-S | 3,420,000 |
| 1913 | 19,760,000 |
| 1913-S | 510,000 |
| 1914 | 17,360,230 |
| 1914-D | 11,908,000 |
| 1914-S | 2,100,000 |
| 1915 | 5,620,000 |
| 1915-S | 960,000 |
| 1916 | 18,490,000 |
| 1916-S | 5,820,000 |
Source: BarberDimeCoins.com