Peace Dollars were created as a way to commemorate the restoration of peace following the end of World War I. Rather than being issued for a single year, the series continued for a number of years, as three United States Mint facilities struck silver dollars in relatively large quantities. Mintages for the series occur at two extremes with large numbers struck early in the series and low mintages and a significant key date towards the end of the series.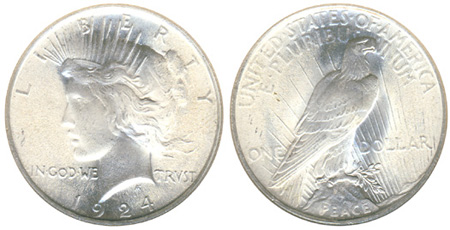 Anthony de Francisci designed the Peace Dollar, winning a competition among several notable artists of the era. The design used when the first coins were struck in 1921 was done in high relief with a portrait of Liberty based on his wife appearing on the obverse. The reverse of the reverse of the coin featured an eagle perched on a rock with rays of the sun behind. The eagle grasps an olive branch and has the word "PEACE" below. The relief of the coin was lowered for subsequent years of the series.
Peace Dollar Notes:
Coins were produced from 1921 to 1928 and then from 1934 to 1935. Production also took place for the 1964-D Peace Dollar, although all pieces were supposedly melted and never released to the public.
The entire series includes 32 different date and mint mark combinations. The mints which produced Peace Dollars were Philadelphia, Denver, and San Francisco.
The highest minted coin in the series is the 1922 Peace Dollar, with the Philadelphia Mint striking 551,737,000 pieces.
The lowest minted coin in the series is the 1928 Peace Dollar, with the Philadelphia Mint striking only 360,649 pieces.
The 1934-D Double Die Obverse Peace Dollar is a notable variety and is included in the mintage for the 1934-D Peace Dollar.
The 1964-D Peace Dollar is a unique coin in the series. Shortly after the mintage had taken place, Congress rescinded the authorization to produce silver dollar and ordered all pieces struck to be melted. A total of 316,076 silver dollars were struck. According to the government, all examples of the 1964-D Peace Dollar were melted and never left the Denver Mint. However, rumors exist that some pieces managed to escape.
The total number of coins struck across all years of the series is 191,394,726.
The average mintage per issue is 5,981,085 pieces.
Peace Dollar Mintages: