The Liberty Seated Quarter was issued for a lengthy period of 53 years, which would only be surpassed by the modern Washington type issued half a century later. Throughout the long duration of the series, numerous design and composition changes resulted in an abundance of subtypes for collectors to pursue. The mintage levels for the series dipped to extraordinary lows at several points throughout the series.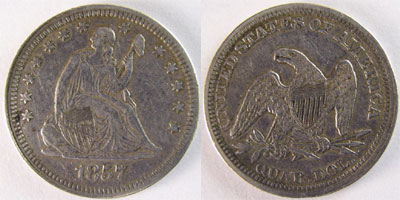 The original obverse design for the series featured an image of Liberty seated on a rock. She holds a pole with a cap in one hand and a union shield in the other. Minor design changes included the addition of drapery at her elbow early within the series. The later changes were prompted by alterations of the composition, which saw the weight reduced from 6.68 grams to 6.22 grams, and then increased slightly to 6.25 grams. These changes were marked with the addition of arrows and/or rays within the design. Finally, the motto "In God We Trust" was added to the reverse late in the series.
Production took place at Philadelphia, New Orleans, San Francisco, and Carson City. Mintage levels covered an extremely wide range from just a few thousand to more than ten million pieces.
For the Liberty Seated Quarters series:
The lowest mintage was seen for 1873-CC without arrows when there were 4,000 pieces reported as struck. Of this number, only 5 are known to exist.
The highest mintage was for the 1876 Quarter with 17,816,000 pieces struck.
Across all issues, the total reported mintages for the series reached 155,498,956.
The average mintage per issue was 1,439,805.
Liberty Seated Quarter Mintages
| Issue | Mintage |
| --- | --- |
| 1838 (No Drapery) | 466,000 |
| 1839 (No Drapery) | 491,146 |
| 1840 (No Drapery) | 188,127 |
| 1840-O (No Drapery) | 382,200 |
| 1840-O (Drapery) | 43,000 |
| 1841 | 120,000 |
| 1841-O | 452,000 |
| 1842 | 88,000 |
| 1842-O | 769,000 |
| 1843 | 645,600 |
| 1843-O | 968,000 |
| 1844 | 421,200 |
| 1844-O | 740,000 |
| 1845 | 922,000 |
| 1846 | 510,000 |
| 1847 | 734,000 |
| 1847-O | 368,000 |
| 1848 | 146,000 |
| 1849 | 340,000 |
| 1849-O | included below |
| 1850-O | 412,000 |
| 1850 | 190,800 |
| 1851 | 160,000 |
| 1851-O | 88,000 |
| 1852 | 177,060 |
| 1852-O | 96,000 |
| 1853 | 44,200 |
| 1853 Arrows and Rays | 15,210,020 |
| 1853-O Arrows and Rays | 1,332,000 |
| 1854 Arrows | 12,380,000 |
| 1854-O Arrows | 1,484,000 |
| 1855 Arrows | 2,857,000 |
| 1855-O Arrows | 176,000 |
| 1855-S Arrows | 396,400 |
| 1856 | 7,264,000 |
| 1856-O | 968,000 |
| 1856-S | 286,000 |
| 1857 | 9,644,000 |
| 1857-O | 1,180,000 |
| 1857-S | 82,000 |
| 1858 | 7,368,000 |
| 1858-O | 520,000 |
| 1858-S | 121,000 |
| 1859 | 1,343,200 |
| 1859-O | 260,000 |
| 1859-S | 80,000 |
| 1860 | 804,400 |
| 1860-O | 388,000 |
| 1860-S | 56,000 |
| 1861 | 4,853,600 |
| 1861-S | 96,000 |
| 1862 | 932,000 |
| 1862-S | 67,000 |
| 1863 | 191,600 |
| 1864 | 93,600 |
| 1864-S | 20,000 |
| 1865 | 58,800 |
| 1865-S | 41,000 |
| 1866 | 16,800 |
| 1866-S | 28,000 |
| 1867 | 20,000 |
| 1867-S | 48,000 |
| 1868 | 29,400 |
| 1868-S | 96,000 |
| 1869 | 16,000 |
| 1869-S | 76,000 |
| 1870 | 86,400 |
| 1870-CC | 8,340 |
| 1871 | 118,200 |
| 1871-S | 30,900 |
| 1871-CC | 10,890 |
| 1872 | 182,000 |
| 1872-S | 83,000 |
| 1872-CC | 22,850 |
| 1873 | 212,000 |
| 1873-CC | 4,000 |
| 1873 Arrows | 1,271,160 |
| 1873-S Arrows | 156,000 |
| 1873-CC Arrows | 12,462 |
| 1874 Arrows | 471,200 |
| 1874-S Arrows | 392,000 |
| 1875 | 4,292,800 |
| 1875-S | 680,000 |
| 1875-CC | 140,000 |
| 1876 | 17,816,000 |
| 1876-S | 8,596,000 |
| 1876-CC | 4,944,000 |
| 1877 | 10,911,200 |
| 1877-S | 8,996,000 |
| 1877-CC | 4,192,000 |
| 1878 | 2,260,000 |
| 1878-S | 140,000 |
| 1878-CC | 996,000 |
| 1879 | 13,600 |
| 1880 | 13,600 |
| 1881 | 12,000 |
| 1882 | 15,200 |
| 1883 | 14,400 |
| 1884 | 8,000 |
| 1885 | 13,600 |
| 1886 | 5,000 |
| 1887 | 10,000 |
| 1888 | 10,001 |
| 1888-S | 1,216,000 |
| 1889 | 12,000 |
| 1890 | 80,000 |
| 1891 | 3,920,000 |
| 1891-O | 68,000 |
| 1891-S | 2,216,000 |
Source: LibertySeatedQuarter.com