The one cent denomination continued its evolution during the early days of American coinage. Within the space of five years, there would be four different designs created, which culminated with the Draped Bust Large Cent introduced in 1796. Finally, there would be a measure of satisfaction with this design, which continued in use until 1807, experiencing high mintages during the course of its run.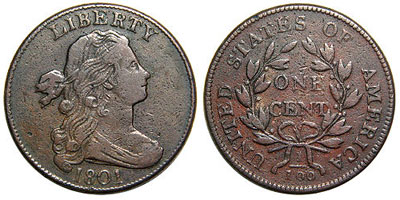 The design was created by Robert Scot and is believed to have been based on a painting originally created by Gilbert Stuart. A rendition of Liberty is portrayed with her hair slightly flowing and bound back with a ribbon. Her bust is visible, partially draped, accounting for the modern appellation of the series. On the reverse is the open wreath motif, which was introduced in the previous series, with an indication of the denomination.
Production would take place at the early Philadelphia Mint with mintages reaching well into the millions for some issues. This was quite a feat for the early United States Mint and a testament to the demand for the coins within commerce.
Draped Bust Large Cent Notes:
The highest mintage occurred in 1802 at 3,435,100 pieces struck.
A number of dies were created for 1796 and several varieties exist, with the 1796 "LIHERTY" Draped Bust Large Cent among the most sought after.
The exact mintage for the 1799 Draped Bust Large Cent is unknown. It is generally assumed that it was included in the delivery reports for 1798, which indicated 1,841,745 pieces struck for circulation. The usual estimate for the number of pieces dated 1799 is approximately 30,000, of which there remains an estimated 1,000 survivors.
The lowest reported mintage occurred for the 1804 Draped Bust Large Cent at 96,500 pieces, although the 1799 Draped Bust Large Cent is believed to have a significantly lower figure which is unknown.
Across all issues, there were 16,069,270 coins struck, yielding an average of 1,460,843 coins per date.
Draped Bust Large Cent Mintages:
| Issue | Mintage |
| --- | --- |
| 1796 | 363,375 |
| 1796 Proof Stemless Reverse | 3 Known |
| 1797 | 897,510 |
| 1798 | 1,841,745 |
| 1799 | Unknown |
| 1800 | 2,822,175 |
| 1801 | 1,362,837 |
| 1802 | 3,435,100 |
| 1803 | 3,131,691 |
| 1804 | 96,500 |
| 1805 | 941,116 |
| 1806 | 348,000 |
| 1807 | 829,221 |
Source: DrapedBustCent.com