Finally, the one cent denomination found some stability in design with the arrival of the Matron Head or Coronet Head Large Cents. The design was adopted following a one year hiatus in production which resulted from a disruption in the supply of planchets due to the War of 1812. With the planchet supply resumed, a new design by Robert Scot was adopted with an alternate rendition of Liberty.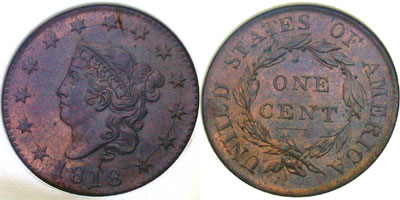 While some may not feel that the design was a vast improvement on earlier ones, it did stand the test of time and remained in use for more than two decades, and more than three decades following some modifications performed by Christian Gobrecht. The obverse featured a peculiar portrait of Liberty facing left and wearing a headband. There are a pattern of stars surrounding and the date below. The reverse contained a wreath carried over from the previous series with "United States of America" surrounding and "One Cent" within the center. The design would be modified starting in 1836 to feature a "young head" of Liberty.
Production would take place in large quantities for more years of the series with some notable exceptions. All coins were struck on planchets of pure copper with a weight of 10.89 grams and diameter of approximately 29 mm.
For the Matron Head Cent series:
There are 24 different date issues that were minted between 1816 and 1839.
During this time, total production reached 62,823,073 pieces.
The lowest reported mintage occurred in 1821, although a lower unreported mintage is suspected to have occurred in 1823.
The highest mintage was 6,370,200 pieces in 1838.
Average production per year was 2,731,438.
Matron Head Cent Mintages
| Issue | Mintage |
| --- | --- |
| 1816 | 2,820,982 |
| 1817 | 3,948,400 |
| 1818 | 3,167,000 |
| 1819 | 2,671,000 |
| 1820 | 4,407,550 |
| 1821 | 389,000 |
| 1822 | 2,072,339 |
| 1823 | unkown |
| 1824 | 1,262,000 |
| 1825 | 1,461,100 |
| 1826 | 1,517,425 |
| 1827 | 2,357,732 |
| 1828 | 2,260,624 |
| 1829 | 1,414,500 |
| 1830 | 1,711,500 |
| 1831 | 3,359,260 |
| 1832 | 2,362,000 |
| 1833 | 2,739,000 |
| 1834 | 1,855,100 |
| 1835 | 3,878,400 |
| 1836 | 2,111,000 |
| 1837 | 5,558,300 |
| 1838 | 6,370,200 |
| 1839 | 3,128,661 |
Source: CoronetHeadCent.com