The second design issued for the denomination, the Draped Bust Half Dollar was issued from 1796 to 1807. During this time the reverse design of the coins was changed, creating two distinct subtypes. The initial reverse featuring a small eagle had an extremely limited mintage, making it an important type coin. The second reverse type featuring a heraldic eagle is relatively more available.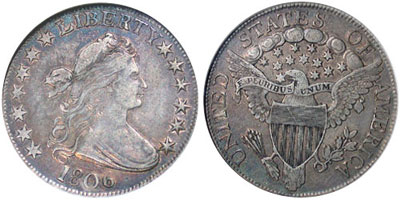 The coins were designed by Robert Scot. As the name implies, the obverse of the coins features an image of Liberty with her bust draped. She is surrounded by either 15 or 16 stars. The initial reverse design features an eagle with wings spread surrounded by a wreath. The second reverse design features an eagle with wings and talons spread, appearing behind a shield with arrows and an olive branch.
There were only eight different dates for the series, which included a gap between the different reverse designs and another one year pause in production. Among the small number of dates, a large number of varieties can be encountered, including some prized rarities.
For the Draped Bust Half Dollar series:
The total number of coins struck for the series was 1,604,705. This includes 3,918 of the small eagle reverse type and 1,600,787 of the heraldic eagle reverse type.
The lowest mintage was for the 1794-1795 coins with 3,918 produced.
The highest mintage occurred with the 1806 Draped Bust Half Dollar at 839,576.
Draped Bust Half Dollar Mintages
| Issue | Mintage |
| --- | --- |
| 1796- 1797 | 3,918 |
| 1801 | 30,289 |
| 1802 | 29,890 |
| 1803 | 188,234 |
| 1805 | 211,722 |
| 1806 | 839,576 |
| 1807 | 301,076 |
Source: Draped Bust Half Dollar