The Saint Gaudens Double Eagle is widely viewed as one of the most beautiful U.S. coin designs in history. Created by reknown sculptor Augustus Saint Gaudens, a striking image of Liberty is portrayed holding an olive branch and lit torch. She steps confidently forward with the U.S. Capitol building and the rays of the sun behind her. The reverse features the majestic image of a flying eagle with the rays of the sun beneath.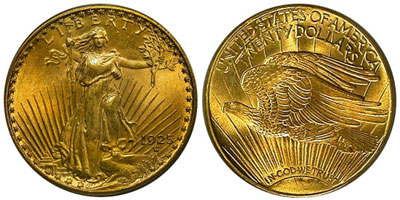 The coins were minted from 1907 to 1933 with a few modifications to the design, most notably the relief in which it was rendered. Augustus Saint Gaudens had originally intended to the coins to be struck in ultra high relief, but this was lowered to high relief for initial circulation production. After about 12,000 pieces were struck, the relief was lowered once again to enable mass production.
While mintages are interesting to study for the series, they are less significant a factor in determining rarity than is usually the case. Following the gold coin recall of 1933, millions of double eagles were melted by the government, with great impact on the surviving populations of coins. The 1933 Double Eagle in particular had production of 445,500 coins, but only a few pieces still exist.
For the Saint Gaudens Double Eagle series:
Total circulating coin production for the series was 70,290,763 across the Philadelphia, Denver, and San Francisco Mint facilities.
The largest number of Saint Gaudens Double Eagles were struck at the San Francisco Mint, which was responsible for 34,906,338 coins, nearly 50% of the total.
The highest mintage coin was the 1928 Saint Gaudens Double Eagle at 8,816,000.
Besides the small number of high relief coins, the lowest mintage occurred with the 1908-S Saint Gaudens Double Eagle at 22,000 pieces. Despite having the lowest mintage, some other issues of the series have fewer surviving specimens.
Saint Gaudens Double Eagle Mintages
| Issue | Mintage |
| --- | --- |
| 1907 high relief | 12,367 |
| 1907 arabic numerals | 361,667 |
| 1908 without motto | 4,271,551 |
| 1908-D without motto | 663,750 |
| 1908 with motto | 156,258 |
| 1908-D with motto | 349,500 |
| 1908-S | 22,000 |
| 1909 | 161,215 |
| 1909-D | 52,500 |
| 1909-S | 2,774,925 |
| 1910 | 482,000 |
| 1910-D | 429,000 |
| 1910-S | 2,128,250 |
| 1911 | 197,250 |
| 1911-D | 846,500 |
| 1911-S | 775,750 |
| 1912 | 149,750 |
| 1913 | 168,780 |
| 1913-D | 393,500 |
| 1913-S | 34,000 |
| 1914 | 95,250 |
| 1914-D | 453,000 |
| 1914-S | 1,498,000 |
| 1915 | 152,000 |
| 1915-S | 567,500 |
| 1916-S | 796,000 |
| 1920 | 228,250 |
| 1920-S | 558,000 |
| 1921 | 528,500 |
| 1922 | 1,375,500 |
| 1922-S | 2,658,000 |
| 1923 | 566,000 |
| 1923-D | 1,702,250 |
| 1924 | 4,323,500 |
| 1924-D | 3,049,500 |
| 1924-S | 2,927,500 |
| 1925 | 2,831,750 |
| 1925-D | 2,938,500 |
| 1925-S | 3,776,500 |
| 1926 | 816,750 |
| 1926-D | 481,000 |
| 1926-S | 2,041,500 |
| 1927 | 2,946,750 |
| 1927-D | 180,000 |
| 1927-S | 3,107,000 |
| 1928 | 8,816,000 |
| 1929 | 1,779,750 |
| 1930-S | 74,000 |
| 1931 | 2,938,250 |
| 1931-D | 106,500 |
| 1932 | 1,101,750 |
| 1933 | 445,500 |
Source: SaintGaudensDoubleEagle.com