After fifty years of production and widespread circulation, the reverse design of the Lincoln Cent was changed. The redesign coincided with the 150th anniversary of the birth of Abraham Lincoln. The new reverse would feature a depiction of the Lincoln Memorial by Frank Gasparro. The obverse of the coin would continue to feature the bust of Lincoln, originally designed by Victor D. Brenner.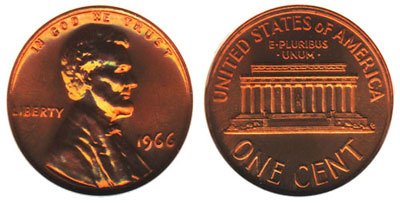 The Lincoln Memorial Cent series generally had higher mintage levels for individual issues than the prior Lincoln Wheat Cents. For this reason, the "wheaties" are generally saved from circulation while the coins displaying the Memorial reverse are left to circulate. However, there are some lower mintage coins produced at the San Francisco Mint.
For the Lincoln Memorial Cent series:
There were a total of 104 regular circulating issues for the series. This includes coins mintage at Philadelphia (no mint mark), Denver ("D" mint mark), and San Francisco ("S" mint mark).
There were only twelve issues of the series with mintages under one billion. Only one issue of the series had a mintage above 10 billion.
The lowest mintage coin is the 1968-S Lincoln Cent at 258,270,001.
The highest mintage coin is the 1982 Lincoln Cent at 10,712,525. During this year, the composition of the coin was changed from 95% copper and 5% zinc to 97.5% zinc and 2.5% copper.
The average mintage across all regular issues of the series is 4,110,639,650.
Total mintage for all circulation strike Lincoln Memorial Cents is 427,506,523,571 coins!
Lincoln Memorial Cent Mintages
| Issue | Mintage |
| --- | --- |
| 1959 | 609,715,000 |
| 1959-D | 1,279,760,000 |
| 1960 | 586,405,000 |
| 1960-D | 1,580,884,000 |
| 1961 | 753,345,000 |
| 1961-D | 1,753,266,700 |
| 1962 | 606,045,000 |
| 1962-D | 1,793,148,140 |
| 1963 | 754,110,000 |
| 1963-D | 1,774,020,400 |
| 1964 | 2,648,575,000 |
| 1964-D | 3,799,071,500 |
| 1965 | 1,497,224,900 |
| 1966 | 2,188,147,783 |
| 1967 | 3,048,667,100 |
| 1968 | 1,707,880,970 |
| 1968-D | 2,886,269,600 |
| 1968-S | 258,270,001 |
| 1969 | 1,136,910,000 |
| 1969-D | 4,002,832,200 |
| 1969-S | 547,309,631 |
| 1970 | 1,898,315,000 |
| 1970-D | 2,891,438,900 |
| 1970-S | 693,192,814 |
| 1971 | 1,919,490,000 |
| 1971-D | 2,911,045,600 |
| 1971-S | 525,133,459 |
| 1972 | 2,933,255,000 |
| 1972-D | 2,665,071,400 |
| 1972-S | 376,939,108 |
| 1973 | 3,728,245,000 |
| 1973-D | 3,549,576,588 |
| 1973-S | 317,177,295 |
| 1974 | 4,232,140,523 |
| 1974-D | 4,235,098,000 |
| 1974-S | 409,426,660 |
| 1975 | 5,451,476,142 |
| 1975-D | 4,505,275,300 |
| 1976 | 4,674,292,426 |
| 1976-D | 4,221,592,455 |
| 1977 | 4,469,930,000 |
| 1977-D | 4,194,062,300 |
| 1978 | 5,558,605,000 |
| 1978-D | 4,280,233,400 |
| 1979 | 6,018,515,000 |
| 1979-D | 4,139,357,254 |
| 1980 | 7,414,705,000 |
| 1980-D | 5,140,098,660 |
| 1981 | 7,491,750,000 |
| 1981-D | 5,373,235,677 |
| 1982 | 10,712,525,000 |
| 1982-D | 6,012,979,368 |
| 1983 | 7,752,355,000 |
| 1983-D | 6,467,199,428 |
| 1984 | 8,151,079,000 |
| 1984-D | 5,569,238,906 |
| 1985 | 5,648,489,887 |
| 1985-D | 5,287,399,926 |
| 1986 | 4,491,395,493 |
| 1986-D | 4,442,866,698 |
| 1987 | 4,682,466,931 |
| 1987-D | 4,879,389,514 |
| 1988 | 6,092,810,000 |
| 1988-D | 5,253,740,443 |
| 1989 | 7,261,535,000 |
| 1989-D | 5,345,467,111 |
| 1990 | 6,851,765,000 |
| 1990-D | 4,922,894,533 |
| 1991 | 5,165,940,000 |
| 1991-D | 4,158,442,076 |
| 1992 | 4,648,905,000 |
| 1992-D | 4,448,673,300 |
| 1993 | 5,684,705,000 |
| 1993-D | 6,426,650,571 |
| 1994 | 6,500,850,000 |
| 1994-D | 7,131,765,000 |
| 1995 | 6,411,400,000 |
| 1995-D | 7,128,560,000 |
| 1996 | 6,612,465,000 |
| 1996-D | 6,510,795,000 |
| 1997 | 4,622,800,000 |
| 1997-D | 4,576,555,000 |
| 1998 | 5,032,155,000 |
| 1998-D | 5,225,353,500 |
| 1999 | 5,237,600,000 |
| 1999-D | 6,360,065,000 |
| 2000 | 5,503,200,000 |
| 2000-D | 8,774,220,000 |
| 2001 | 4,959,600,000 |
| 2001-D | 5,374,990,000 |
| 2002 | 3,260,800,000 |
| 2002-D | 4,028,055,000 |
| 2003 | 3,300,000,000 |
| 2003-D | 3,548,000,000 |
| 2004 | 3,379,600,000 |
| 2004-D | 3,456,400,000 |
| 2005 | 3,935,600,000 |
| 2005-D | 3,764,450,000 |
| 2006 | 4,290,000,000 |
| 2006-D | 3,944,000,000 |
| 2007 | 3,763,400,000 |
| 2007-D | 3,638,800,000 |
| 2008 | 2,596,000,000 |
| 2008-D | 2,849,600,000 |
Source: Lincoln Cent