To celebrate the bicentennial of the birth of Abraham Lincoln, four different reverse designs were released for the 2009 Lincoln Cent. The designs represented different stages in the life of the 16th President, depicting his birthplace and childhood, formative years, professional life, and presidency.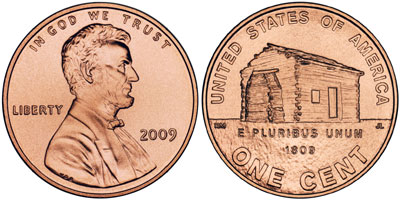 Mintages for the 2009 Lincoln Cents were at extremely low levels relative to the prior Lincoln Memorial Cent mintages. In addition to the excitement about the new designs, collectors had to contend with much fewer coins to go around and more fragmented distribution. These factors provided an instant allure to the series, likely causing more quantities than normal to be saved from circulation.
For the 2009 Bicentennial Lincoln Cents:
Each of the four different designs were produced for circulation at the Philadelphia and Denver Mints. This makes for a total of 8 regular issues for the one year series.
The highest mintage coin was the 2009-P Formative Years Lincoln Cent at 376,000,000.
The lowest mintage coin was the 2009-P Presidency Lincoln cent at 129,600,000.
The average mintage across the eight different issues of the series was 294,250,000. This compares to an average mintage of more than 4 billion for the prior Lincoln Cent series.
Across all circulation strike issues for the 2009 Lincoln Cents, there were 2,345,600,000 coins produced. This compares to total circulating coin production of more than 400 billion for the prior Lincoln Memorial Cents.
2009 Bicentennial Lincoln Cent Mintages
| Issue | Mintage |
| --- | --- |
| 2009-P Birthplace | 284,400,000 |
| 2009-D Birthplace | 350,400,000 |
| 2009-P Formative Years | 376,000,000 |
| 2009-D Formative Years | 363,600,000 |
| 2009-P Professional Life | 316,000,000 |
| 2009-D Professional Life | 336,000,000 |
| 2009-P Presidency | 129,600,000 |
| 2009-D Presidency | 198,000,000 |
Source: 2009 Lincoln Cents