The Lincoln Cent was introduced in 1909 to coincide with the centennial of the birth of Abraham Lincoln. The coins featured the portrait of Abraham Lincoln on the obverse and a pair of wheat ears on the reverse, as designed by Victor D. Brenner. This reverse design was used from 1909 to 1958. The obverse design remains in use today.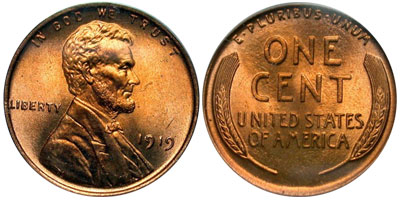 Lincoln Cents are highly popular with collectors due to the accessibility of the series. Many collectors began in their youth by filling coin books with Lincoln Wheat Cents taken from circulation. For collectors with bigger budgets, the series includes some well known key dates and can be a challenge to assemble in high grades with full red coins.
Lincoln Wheat Ears Cent Notes:
There were 140 regular issues of the series, including the VDB and non-VDB versions for the first year of issue. Coins were minted at Philadelphia, Denver, and San Francisco.
The Lincoln Cent was issued with the Wheat Ears reverse design for a duration of 50 years before being replaced by the Lincoln Memorial Cent.
The lowest reported mintage was for the 1909-S VDB Lincoln Cent with only 484,000 pieces struck. The designer's initials, which appear on the reverse beneath the wheat ears, were removed following objections from the public.
The highest mintage was for the 1944 Lincoln Cent with 1,435,400,000 coins minted.
The average mintage across all issues of the series for the Wheat Ears reverse was 184,413,929.
Lincoln Wheat Cent Mintages:
| Issue | Mintage |
| --- | --- |
| 1909 | 72,702,618 |
| 1909 Proof | 2,618 |
| 1909 VDB | 27,995,000 |
| 1909-S | 1,825,000 |
| 1909-S VDB | 484,000 |
| 1909-S Proof VDB | 1,194 |
| 1910 | 146,801,218 |
| 1910 Proof | 4,083 |
| 1910-S | 6,045,000 |
| 1911 | 101,177,787 |
| 1911 Proof | 1,725 |
| 1911-D | 12,672,000 |
| 1911-S | 4,026,000 |
| 1912 | 68,153,060 |
| 1912 Proof | 2,172 |
| 1912-D | 10,411,000 |
| 1912-S | 4,431,000 |
| 1913 | 76,532,352 |
| 1913 Proof | 2,983 |
| 1913-D | 15,804,000 |
| 1913-S | 6,101,000 |
| 1914 | 75,238,432 |
| 1914 Proof | 1,365 |
| 1914-D | 1,193,000 |
| 1914-S | 4,137,000 |
| 1915 | 29,092,120 |
| 1915 Proof | 1,150 |
| 1915-D | 22,050,000 |
| 1915-S | 4,833,000 |
| 1916 | 131,833,677 |
| 1916 Proof | 1,050 |
| 1916-D | 35,956,000 |
| 1916-S | 22,510,000 |
| 1917 | 196,429,785 |
| 1917-D | 55,120,000 |
| 1917-S | 32,620,000 |
| 1918-D | 47,830,000 |
| 1918-S | 34,680,000 |
| 1919 | 392,021,000 |
| 1919-D | 57,154,000 |
| 1919-S | 139,760,000 |
| 1920 | 310,165,000 |
| 1920-D | 49,280,000 |
Lincoln Wheat Cent Mintages Continued:
| Issue | Mintage |
| --- | --- |
| 1920-S | 46,220,000 |
| 1921 | 39,157,000 |
| 1921-S | 15,274,000 |
| 1922-D | 7,160,000 |
| 1923 | 74,723,000 |
| 1923-S | 8,700,000 |
| 1924 | 75,178,000 |
| 1924-D | 2,520,000 |
| 1924-S | 11,696,000 |
| 1925 | 139,949,000 |
| 1925-D | 22,580,000 |
| 1925-S | 26,380,000 |
| 1926 | 157,088,000 |
| 1926-D | 28,020,000 |
| 1926-S | 4,550,000 |
| 1927 | 144,440,000 |
| 1927-D | 27,170,000 |
| 1927-S | 14,276,000 |
| 1928 | 134,116,000 |
| 1928-D | 31,170,000 |
| 1928-S | 17,266,000 |
| 1929 | 185,262,000 |
| 1929-D | 41,730,000 |
| 1929-S | 50,148,000 |
| 1930 | 157,415,000 |
| 1930-D | 40,100,000 |
| 1930-S | 24,286,000 |
| 1931 | 19,396,000 |
| 1931-D | 4,480,000 |
| 1931-S | 866,000 |
| 1932 | 9,062,000 |
| 1932-D | 10,500,000 |
| 1933 | 14,360,000 |
| 1933-D | 6,200,000 |
| 1934 | 219,080,000 |
Lincoln Wheat Cent Mintages Continued:
| Issue | Mintage |
| --- | --- |
| 1934-D | 28,446,000 |
| 1935 | 245,388,000 |
| 1935-D | 47,000,000 |
| 1935-S | 38,702,000 |
| 1936 | 309,632,000 |
| 1936 Proof | 5,569 |
| 1936-D | 40,620,000 |
| 1936-S | 29,130,000 |
| 1937 | 309,170,000 |
| 1937 Proof | 9,320 |
| 1937-D | 50,430,000 |
| 1937-S | 34,500,000 |
| 1938 | 156,682,000 |
| 1938 Proof | 14,734 |
| 1938-D | 20,010,000 |
| 1938-S | 15,180,000 |
| 1939 | 316,466,000 |
| 1939 Proof | 13,520 |
| 1939-D | 15,160,000 |
| 1939-S | 52,070,000 |
| 1940 | 586,810,000 |
| 1940 Proof | 15,872 |
| 1940-D | 81,390,000 |
| 1940-S | 112,940,000 |
| 1941 | 887,018,000 |
| 1941 Proof | 21,100 |
| 1941-D | 128,700,000 |
| 1941-S | 92,360,000 |
| 1942 | 657,796,000 |
| 1942 Proof | 32,600 |
| 1942-D | 206,698,000 |
| 1942-S | 85,590,000 |
| 1943 | 684,628,670 |
| 1943-D | 217,660,000 |
| 1943-S | 191,550,000 |
| 1944 | 1,435,400,000 |
| 1944-D | 430,578,000 |
| 1944-S | 282,760,000 |
| 1945 | 1,040,515,000 |
| 1945-D | 266,268,000 |
| 1945-S | 181,770,000 |
| 1946 | 991,655,000 |
Lincoln Wheat Cent Mintages Continued:
| Issue | Mintage |
| --- | --- |
| 1946-D | 315,690,000 |
| 1946-S | 198,100,000 |
| 1947 | 190,555,000 |
| 1947-D | 194,750,000 |
| 1947-S | 99,000,000 |
| 1948 | 317,570,000 |
| 1948-D | 172,637,500 |
| 1948-S | 81,735,000 |
| 1949 | 217,775,000 |
| 1949-D | 153,132,500 |
| 1949-S | 64,290,000 |
| 1950 | 272,635,000 |
| 1950 Proof | 51,386 |
| 1950-D | 334,950,000 |
| 1950-S | 118,505,000 |
| 1951 | 284,576,000 |
| 1951 Proof | 57,500 |
| 1951-D | 625,355,000 |
| 1951-S | 136,010,000 |
| 1952 | 186,775,000 |
| 1952 Proof | 81,980 |
| 1952-D | 746,130,000 |
| 1952-S | 137,800,004 |
| 1953 | 256,755,000 |
| 1953 Proof | 128,800 |
| 1953-D | 700,515,000 |
| 1953-S | 181,835,000 |
| 1954 | 71,640,050 |
| 1954 Proof | 233,300 |
| 1954-D | 251,552,500 |
| 1954-S | 96,190,000 |
| 1955 | 330,958,200 |
| 1955 Proof | 378,200 |
| 1955-D | 563,257,500 |
| 1955-S | 44,610,000 |
| 1956 | 420,745,000 |
| 1956 Proof | 669,384 |
| 1956-D | 1,098,201,100 |
| 1957 | 282,540,000 |
| 1957 Proof | 1,247,952 |
| 1957-D | 1,051,342,000 |
| 1958 | 252,525,000 |
| 1958 Proof | 875,652 |
| 1958 Double Die Obverse | 3 Known |
| 1958-D | 800,953,300 |
Source: LincolnCents.net