The second silver dollar design from the United States Mint was known as the Draped Bust Dollar. The mintages for circulation varied widely during the few years of issue, although all coins remain relatively available. The great rarity is the 1804 Draped Bust Dollar, which was not a regular issue, but specially created as diplomatic gifts.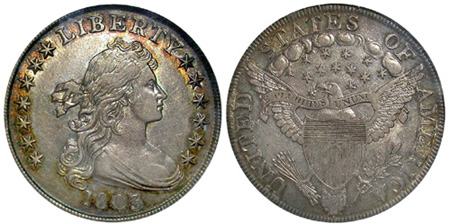 The coins were designed by Robert Scot, the first Chief Engraver of the United States Mint. The obverse features an image of Liberty with her hair lightly bound and her bust draped. The inscription "Liberty" appears above with the date below. Stars appear to the left and right, and varied in number throughout the series from 13 to 15 to 17. Two different reverse designs were used during the series. The first was the small eagle used for the previous type, and the second was a heraldic eagle. In both cases, the denomination appears on the edge of the coin.
For the Draped Bust Dollars:
The small eagle reverse type was used from 1795 to 1798. The heraldic eagle reverse was used from 1798 until 1804. For the year in common, a mintage breakdown between the two reverse designs is unknown.
Across all years of issue for circulation, there were 1,284,143 Draped Bust Dollars minted.
The lowest mintage issue occurred in 1797 with 7,776 coins produced.
The 1804 Draped Bust Dollar was actually struck in 1834 and later years, following a request from the U.S. State Department for coin sets to be presented as diplomatic gifts. There are 15 examples of the coin known, including original strikings and later restrikes.
Draped Bust Dollar Mintages
| Issue | Mintage |
| --- | --- |
| 1795 | 42,738 |
| 1796 | 79,920 |
| 1797 | 7,776 |
| 1798 | 327,536 |
| 1799 | 423,515 |
| 1800 | 220,920 |
| 1801 | 54,454 |
| 1802 | 41,650 |
| 1803 | 85,634 |
| 1804 | 15 known |
Source: Draped Bust Dollar