The Kennedy Half Dollar was created to memorialize President John F. Kennedy. The mintages for the coin were immense in the early years of the series as many members of the public saved the coin as a memento. Over the years, this actually led to a decline in use for the denomination, which resulted in dwindling mintages for the duration of the series, which continues to the present day.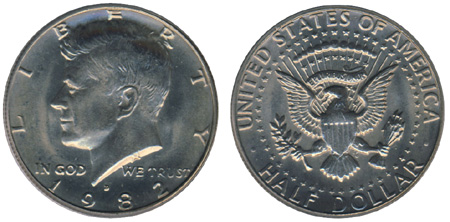 The design of the coin features a portrait of the President, facing left. The inscription "Liberty" is widely spaced above and "In God We Trust" is across the neck line. The date appears below. On the reverse is an eagle based on the Presidential Seal. There is an olive branch and arrows in its talons and fifty stars surrounding. A banner above the eagle reads "E Pluribus Unum", while the inscriptions "United States of America" and "Half Dollar" surround the image. For the 1976 Kennedy Half Dollar the reverse image was changed to depict Independence Hall and the date on the obverse was "1776-1976".
For the Kennedy Half series:
There have been 4,096,824,385 coins produced for circulation from the start of the series in 1964 until 2010. The series is still being produced each year at the Philadelphia and Denver Mints in limited quantities to satisfy collector demand.
The average mintage for circulation issues is 47,637,493, however this is highly skewed by earlier high mintage issues. Since 2002, the mintages have ranged from a low of 1,700,000 to a high of 3,800,000.
The highest mintage issue is the 1971-D Kennedy Half Dollar at 302,097,424 pieces.
Traditionally, the 1970-D Kennedy Half dollar has been considered a key date issue due to the low mintage of 2,150,000. Several issues in the past decade now have mintages below this level.
Overall, there are 86 date and mint mark combinations within a complete set of circulation strike coins. This includes issues through 2010.
Kennedy Half Dollars Mintages
| Issue | Mintage |
| --- | --- |
| 1964 | 273,304,004 |
| 1964-D | 156,205,446 |
| 1965 | 65,879,366 |
| 1966 | 108,984,932 |
| 1967 | 295,046,978 |
| 1968-D | 246,951,930 |
| 1969-D | 129,881,800 |
| 1970-D | 2,150,000 |
| 1971 | 155,164,000 |
| 1971-D | 302,097,424 |
| 1972 | 153,180,000 |
| 1972-D | 141,890,000 |
| 1973 | 64,964,000 |
| 1973-D | 83,171,400 |
| 1974 | 201,596,000 |
| 1974-D | 79,066,300 |
| 1976 | 234,308,000 |
| 1976-D | 287,565,248 |
| 1977 | 43,598,000 |
| 1977-D | 31,449,106 |
| 1978 | 14,350,000 |
| 1978-D | 13,765,799 |
| 1979 | 68,312,000 |
| 1979-D | 15,815,422 |
| 1980 | 44,134,000 |
| 1980-D | 33,456,449 |
| 1981 | 29,544,000 |
| 1981-D | 27,839,533 |
| 1982 | 10,819,000 |
| 1982-D | 13,140,102 |
| 1983 | 34,139,000 |
| 1983-D | 32,472,244 |
| 1984 | 26,029,000 |
| 1984-D | 26,262,158 |
| 1985 | 18,706,962 |
| 1985-D | 19,814,034 |
| 1986 | 13,107,633 |
| 1986-D | 15,336,145 |
| 1987 | 2,890,758 |
| 1987-D | 2,890,758 |
| 1988 | 13,626,000 |
| 1988-D | 12,000,096 |
| 1989 | 24,542,000 |
| 1989-D | 23,000,216 |
| 1990 | 22,278,000 |
| 1990-D | 20,096,242 |
| 1991 | 14,874,000 |
| 1991-D | 15,054,678 |
| 1992 | 17,628,000 |
| 1992-D | 17,000,106 |
| 1993 | 15,510,000 |
| 1993-D | 15,000,006 |
| 1994 | 23,718,000 |
| 1994-D | 23,828,110 |
| 1995 | 26,496,000 |
| 1995-D | 26,288,000 |
| 1996 | 24,442,000 |
| 1996-D | 24,744,000 |
| 1997 | 20,882,000 |
| 1997-D | 19,876,000 |
| 1998 | 15,646,000 |
| 1998-D | 15,064,000 |
| 1999 | 8,900,000 |
| 1999-D | 10,682,000 |
| 2000 | 22,600,000 |
| 2000-D | 19,466,000 |
| 2001 | 21,200,000 |
| 2001-D | 19,504,000 |
| 2002 | 3,100,000 |
| 2002-D | 2,500,000 |
| 2003 | 2,500,000 |
| 2003-D | 2,500,000 |
| 2004 | 2,900,000 |
| 2004-D | 2,900,000 |
| 2005 | 3,800,000 |
| 2005-D | 3,500,000 |
| 2006 | 2,400,000 |
| 2006-D | 2,000,000 |
| 2007 | 2,400,000 |
| 2007-D | 2,400,000 |
| 2008 | 1,700,000 |
| 2008-D | 1,700,000 |
| 2009 | 1,900,000 |
| 2009-D | 1,900,000 |
| 2010 | 1,800,000 |
| 2010-D | 1,700,000 |
Source: KennedyHalfDollars.net