The twenty five cent denomination was introduced after both smaller and higher denominations had already made their appearance within the early United States. Despite the utility of the quarter in the present day, in early America it was too large for every day commerce and too small for silver depositors to request.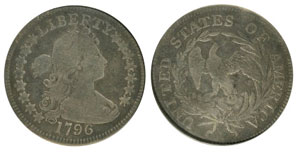 The Draped Bust Quarter was minted in 1796 with an obverse design featuring the bust of Liberty with her hair bound loosely and falling beneath her back. For the first year of the series, a small eagle appeared on the reverse design, positioned within a wreath. After this one year of production, the denomination paused and was resumed in 1804 with an alternate revers design featuring a large or heraldic eagle.
The early change in design resulted in a rare subtype, which is often the most difficult coin to acquire for those seeking to complete a collection of early United States coins.
For the Draped Bust Quarter series:
Only five different dates were produced for the series, although it spanned a greater number of years from 1796 to 1807.
The lowest mintage occurred in 1796 at just 6,146 pieces. This also came to represent a subtype rarity for type set collectors.
The highest mintage occurred in the final year of the design in 1807 at 220,643 pieces.
Total number of coins minted for the design is 561,045, with an average mintage of 12,209 per year.
Draped Bust Quarter Mintages
| Issue | Mintage |
| --- | --- |
| 1796 | 6,146 |
| 1804 | 6,738 |
| 1805 | 121,394 |
| 1806 | 206,124 |
| 1807 | 220,643 |
Source: DrapedBustQuarter.com