The Liberty Cap Large Cent represented the third design introduced for the cent denomination during its first year of production in 1793. As the result of criticism from various sources, the design only lasted until 1796, however this was still considerably longer than duration of just a few months for the earlier designs. The new design experienced a low mintage for the first year of production, but other years saw reasonable numbers produced. Some specific varieties of the series are true rarities, with two of the most desirable large cent varieties found within this type.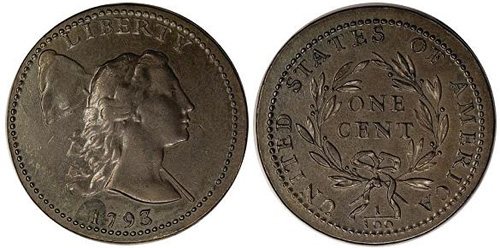 The Liberty Cap Cent was designed by Joseph Wright, a New Jersey portraitist born in 1756 who had received his art education in England. His portraits of George Washington were perhaps his best-known works. Regrettably, Wright would not live to see the first cents bearing his design released into circulation, as he died from the yellow fever epidemic in the late summer of 1793.
Liberty Cap Large Cent Notes:
The Liberty Cap Large Cent was produced with four different dates, although there are over 100 known varieties.
Each die was made by hand, resulting in differences in placement of the lettering and date, as well as the general execution of the portrait. Collectors typically identify these distinct portraits as "Head of 1793, 1794, or 1795."
The mintage levels for each year were relatively high with the exception of the first year of issue in 1793 when the U.S. Mint struck only 11,056 pieces.
The highest mintage occurred in 1794 when the U.S. Mint struck 918,521 pieces.
Liberty Cap Large Cent Mintages: