The Capped Bust Quarter series is divided into two different varieties. The first was issued from 1815 to 1828 and featured a design by John Reich with specifications that matched the earlier quarter series. The second was issued from 1831 to 1838 with a design modified by William Kneass and a reduced diameter. In terms of mintages, the first variety has generally lower levels and contains the rarities of the series, while mintage levels for the second half of the series were generally higher.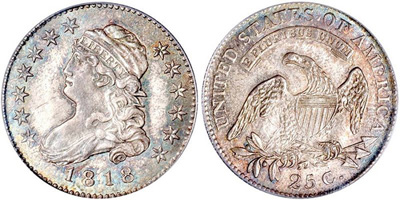 Production of the Capped Bust Quarter includes some gaps as the denomination was not very prominent within early America. The lower denominations were used more frequently within everyday commerce and the higher denominations were used by banks and silver depositors. There was simply less need for the quarter dollar denomination.
Capped Bust Quarter Notes:
The total number of coins reported struck for the series was 5,496,984. This is broken down as 1,294,584 from the first variety of the series with a large diameter and 4,202,400 coins from the second variety of the series with a reduced diameter.
There are a total of 19 different dates for the series, however advanced collectors will note a larger number of varieties within particular dates. These varieties are included in the mintage for each year.
Mintage reporting was not as precise as subsequent years with the entire number of coins dated 1825 included in the 1824 figure, and a mysterious 4,000 mintage reported for the 1827 Capped Bust Quarter, although no circulation strike examples are known to exist.
The lowest reported mintage was for 1827 with 4,000 coins reported struck.
The highest reported mintage was for 1835 with 1,952,000 coins reported struck.
Capped Bust Quarter Mintages:
| Issue | Mintage |
| --- | --- |
| 1815 | 89,235 |
| 1818 | 361,174 |
| 1819 | 144,000 |
| 1820 | 127,444 |
| 1821 | 216,851 |
| 1822 | 64,080 |
| 1823 | 17,800 |
| 1824-1825 | 168,000 |
| 1827 | 4,000 |
| 1828 | 102,000 |
| 1831 | 398,000 |
| 1832 | 320,000 |
| 1833 | 156,000 |
| 1834 | 286,000 |
| 1835 | 1,952,000 |
| 1836 | 472,000 |
| 1837 | 252,400 |
| 1838 | 366,000 |
Source: CappedBustQuarter.com